guided tour continues
animated banner from Dave Central
Colour is Nature's Anti-Depressant

Censorship in Libraries and Schools
defies the meaning of Education!
Please visit:





Stay Informed!

We support





Free Speech Online:
Blue Ribbon Campaign

~ Both Cats ~AND~ Mice deserve Free Speech! ~
The entire spectrum of LIGHT is reflected
in the RAINBOW, just as the HOLISM of
Planet Earth and her creatures is reflected by,
and absolutely dependent upon, ALL colours,
shades and hues of skin, thought
and beliefs, co-existing in harmony.
<!-Beginning Religious Tolerance WebRing fragment-->

This Religious Tolerance Webring site owned by Sandy Hughes.
[ Prev. 5 Sites | Previous | Next | Next 5 Sites | Random Site | List Sites ]

<!-End Religious Tolerance WebRing Fragment -->




Aquarian Zone Statement
While we absolutely support Free Speech for all,
we cannot support any sites promoting HATE,
especially while claiming to be Christian
and claiming that "God hates."
True Christianity is all about LOVE;
God, by any name, and in every religion, is LOVE.
Planet Earth is the Heart Chakra of our Solar System.
Hating and Killing have no place here.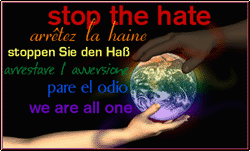 Please Visit:
"Judge not, lest ye be judged.
Condemn not, lest ye be condemned.
Forgive, and ye shall be forgiven."
~ St. Luke 6:37
Have you ever thought of it this way?
Heterosexuality Quiz
He is not Godless who scorns the God of the multitudes.
He is Godless who accepts the opinions of the multitudes
concerning their God. ~ Epicurus


"...and justice for all"
which part of ALL don't you understand?
All we are saying
is Give PEACE a Chance !
Guided Tour continues


Cyber-Cinema, Local Astrology News,
Whispering Winds, Web Travel Guide,
Private Readings and our Guest Book!

Back to AZ Portal