Astro-Log


~ Cancer ~
Moons of Cancer:

3rd Q:
June 24; 6:00pm
Aries, 3° 47'
NEW:
July 1; 12:20pm
Cancer, 10° 14'
1st Q:
July 8; 5:53am
Libra 16° 39'
FULL:
July 16; 6:55am
Cap., 24° 19'

Moons of Leo:

3rd Q:
July 24; 4:02am
Taurus, 1° 51'
NEW:
July 30; 7:25pm
Leo, 8° 12'
1st Q:
Aug. 6; 6:02pm
Scorpio 14° 50'
FULL:
Aug. 14; 10:13pm
Aqu., 22° 41'

= Solar Eclipse = Lunar Eclipse
All times given are for the West Coast of North America (PDT+7=GMT).
---
Our resident sky-watcher reveals her notes in Astro-Log: a sketch of this month's heavenly activities. As the planets dance through the celestial ballroom, the "Music of the Spheres" impacts on our entire environment, from macrocosm to microcosm. In our continual attempts to "go with the flow," checking the current cosmic pulse through Astro-Log, can help us harmonize
with the moment, the Eternal Now.
These effects are GLOBAL, regardless of your "sign."
Obviously, the way they interact with your own personal horoscope
will determine "how" you personally experience them.

As the ~tyme~warps~ continue, we are doing our best to transmit these Logs promptly,
but true to its name, the Aquarian Zone runs on its own frequency and does not always coincide
with ~earth~tyme~. This monthly report is usually posted by the natural solar rhythm
which occurs each time the Sun changes signs. It is meant to be a Guide, not Gospel.
Our Star-Gazer sincerely hopes that her notes are a help to you.
Sandy's ICQ #: 23344288

~ personal internet pager ~
NOW Penelope's Parlor is back!
Aquarian Zone's own Chat Room!

OPEN for your enjoyment 24 hours a day!
~ high atop the Andes at Machu Picchu ~ it is breathtaking.
Chat with your friends, ~any~tyme~
L-I-V-E CHATS with SANDY are also available.
When is good for you? It's as easy as e~mail.
---
Do you have a friend who
would like the Aquarian Zone?
just click ->



Last month's Astro-Log is here!
~ Moon Mantras! ~
We jump from Summer Solstice to a Solar Eclipse in Cancer to begin the month of July - an eclipse on the New Moon (when the Sun and Moon are conjunct and the Moon blocks the Sun from our view for a few moments). This time, the Sun and Moon were also conjunct Mars, igniting deep, often painful emotions in matters of love and family. The fiery God of War brings careless behaviors, anger and challenges to our soft spots, wherever we are most vulnerable, but also to release or activate our most heart-felt responses (Cancer). The Moon moved on to conjoin Mercury and Venus that day (July 1), also in Cancer, offering contact and communication, understanding and healing.

Mercury went retrograde (while our Star-Gazer was gone) on June 23. It goes direct on July 17, and much gathering needs to be done by then. This 'gathering' is a bringing together of all the disparate parts of our lives and weaving them into a whole. Cancer knows what it loves and what it dislikes. We are all being challenged to intuitively "know" what is best or most appropriate for ourselves and our loved ones. What the rest of the world thinks about it is irrelevant. It serves us well to remember that Cancer represents "clan consciousness" which hones our abilities to recognize our Soul Family, our true loved ones, as easily as we do our biological kin, thus enabling us to bring mutual support through compatible beliefs and principles.

Motivation soars as we clean out the closets, get to know ourselves better and share
some of our intimacies with close associates. The 1st Quarter Moon in Libra on July 8,
demanded fairness and respect for each other's viewpoints, as we agreed to disagree.
Accepting the conditions of plans changing moment-to-moment helps us learn to surf the
high-tides. We do not expect the gale-force Winds of Time to stop, or even to slow down.
July 13 - As our transmissions resume, Venus has just entered Leo, with the Moon in Sagittarius. We are beginning to re-energize, in preparation for Sunday's Full Moon. Plans are materializing, we are feeling more hopeful, stepping lighter and thinking sharper. Dare to indulge yourself in a little adventure, fulfill a fantasy, or at least take a wee break just for fun!
July 14 - Capricorn Moon brings closure and completion to many projects in process. Cutting down on the sweets, the booze or the shopping addiction may be part of the answer. Listen to old folks, and remember favorite mentors' advice. When in doubt, ask them! (even if only in your own mind, you may be surprised at the answers you get.) Mercury Rx is now back at 10°Cancer, for several days, which is the exact point of the Solar Eclipse on July 1. We must not get ahead of ourselves. We are being asked to remember our recent lessons, and not to repeat the pain.
July 15 - Somebody has "an axe to grind" and may be looking for an argument. Humor and playfulness will save the strife, and children may play a large role. Legal agreements can be hammered out, and terms agreed upon. State your boundaries and be done with it.
July 16 - Full Moon Lunar Eclipse in Capricorn calls for a recounting of all we value and revere. Ancestors seem alive and very close - indeed, they are. This "middle eclipse" of this power-packed month of three eclipses(!!!) brings to a peak the high vibrational frequencies of the corridors between "Life and Death" - this side and the "other side." Many souls will travel these light tunnels to and from the Earth during this passage, and we will all be elevated and perhaps thrown off balance by all the astral activity!
If you allow a quiet moment to be with your own heart, you may hear the whispers on the wind, of those long-gone, or those just ready to begin. This means not having your day so packed that you fall into bed not even knowing your name. It means scheduling a few minutes with your Higher Self for a change. Trust your intuition and your grandmother. Take one more spin through the attic or the auction - watch for cobwebs; they often conceal the valuables.
July 17 - Aquarian Moon is proud to announce that Mercury is now in Direct motion, and the reigning confusion will begin to subside. Moon trines Jupiter in Gemini, so spirits are high and optimism returns, but take it slowly. Venus opposes Neptune and the Moon, so mental judgment and physical balance may be off-kilter. Jumping to conclusions or being over-idealistic are potential dangers, as are puddles and spilled ketchup.
July 18 - Everything feels new today, including some of your comfort zones, which may be unsettling, even alienating, - but new friends or opportunities await you. Social climate escalates and you find yourself out dancing late, or snuggled up with a stranger talking about your childhoods. The surreal atmosphere continues into the dreamtime - tomorrow doesn't exist.
July 19 - Pisces Moon distorts reality again, and your re-entry from yesterday creates a wobble in your step, but if you segue into dancing, all will be well. Going with the flow is a given, even when obstacles present themselves, and they will. Just remember that mutable water (Pisces) always finds the Path of Least Resistance. Try chocolate. :)
July 20 - Blockages are cleared, contact is made and lost papers are recovered. Amendments can be made to contracts or leases, without penalty. Headlines bring news of payback, stock dividends arrive, and phone calls announce dispute settlements. An air of newfound self-reliance and autonomy takes over, and the prospects seems richer now, possibilities greater. Expect a changing of the guard, and that the new king will be crowned, whether that means becoming president of your bowling team, or state senator - power changes hands.
July 21 - The last day of Cancer sparks reunions and sentimental journeys. An awareness of how much we really mean to each other permeates our consciousness. Expensive gifts are exchanged, solemn vows are spoken and love rekindled. If you have been waiting for the perfect night in the Passion Pit, this just might be it. Vulnerable Pisces Moon gives way to fiery Aries by sunset, and the heat will rise. When the morning sun rises in Leo, you will feel reborn.
July 22 - Aries Moon ushers the Sun into Leo, as Venus trines Chiron and Mars conjoins the North Node - the new Path has been laid and is waiting for your first footstep.


Flash! - Lightning, that is.
At the stroke of midnight on this Leo Eve,
July 22, 2000, even in the darkness the Light comes forth,
as a thunder and lightning storm rages in the B.C. skies. Guess what?
Our Star-Gazer couldn't help herself, and she took a picture of it for you!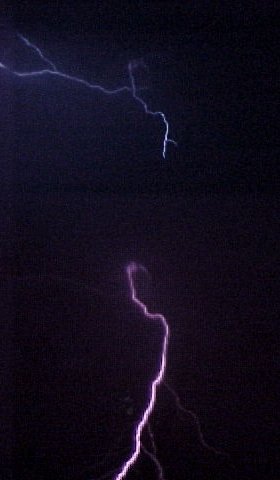 At 10pm last night, Mercury formed a quincunx with Chiron, surely precipitating this storm, but also heralding a newly discovered clarity, fresh mixtures of ideas and new formulas for healing and resolution. Venus trines Chiron within hours, followed by trines to Venus, Pluto and Chiron, by the Moon in Aries! All on the first day of Leo. This is all Fire folks, in its highest form - creative expression through art, love and joy. This is time of year (Leo) to make the most of every opportunity for a good time!
sorrrrry for the time~blips, but...
~ transmissions are always coming in ... stay-tuned ~

Why stay in the dark?



Personal~Zone


Your Very Own Personalized


Daily Astrological Forecast Report
and now ~ How Does Astrology Work?
Share your Smile,
your Warmth, your Time.
Tribute to Lady Diana


(now on its own page)
| | | |
| --- | --- | --- |
| Climate Report | Comments Welcome | HOMEto Portal |
Copyright ©, 1998, 1999 ~ Sandy Hughes

---