---

Astro-Log


~ Aries ~
Moons of Aries (April):
1st Quarter: March 24; 2:18am - Cancer, 3:20
FULL *BLUE* MOON: March 31; 2:49pm - Libra, 10:46
3rd Quarter: April 8; 7:51pm - Capricorn, 18:49
NEW Moon: April 15; 9:22pm - Aries, 25:45


---
Please Note:
All aspects are approximated for the West Coast of North America (PST+8=GMT). Adjustments may be required for other parts of the world.
Our resident sky-watcher reveals her notes in Astro-Log: a sketch of this month's heavenly activities. As the planets dance through the celestial ballroom, the "Music of the Spheres" impacts on our entire environment, from macrocosm to microcosm. In our continual attempts to "go with the flow," checking the current cosmic pulse through Astro-Log, can help us harmonize with the moment, the Eternal Now. These effects are GLOBAL, regardless of your "sign." Obviously, the way they interact with your own personal horoscope will determine "how" you personally experience them.

~ Aloha, Aries ~
As the ~tyme~warps~ continue, we are doing our best to transmit these Logs promptly, but true to its name, the Aquarian Zone runs on its own frequency and doesn't always coincide with ~earth~tyme~. This monthly report is usually posted by the natural solar rhythm
which occurs each time the Sun changes signs. It is meant to be a Guide, not Gospel.
Our Star-Gazer sincerely hopes that her notes are a help to you.
Sandy's ICQ #: 23344288

~ personal internet pager ~
Just a reminder that Penelope's Parlor is always OPEN for your enjoyment.
You can schedule Chats with your friends, ~any~tyme~.
L-I-V-E CHATS with SANDY are also available.
When is good for you? It's as easy as e~mail.
---
Last month's Astro-Log is here!
Mar. 20 -
Sun enters Aries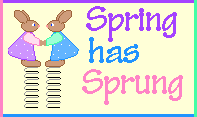 Vernal Equinox

BUT remember Mars is retrograde, and Mars rules Aries, so just as the bride walks down the aisle, take a breath between every step, listen-up and stay sharp. Taurus Moon opposite Mars, then square Uranus, may bring outbursts, broken pipes, or other obstacles in your path. Good day to stay home!

Mar. 21 - Our first Spring Morning may start out a bit wobbly, trouble getting grounded, watch coordination. Balance returns within hours, but the colours in the landscape have changed. We may wonder if we're dreaming, but Mercury gives us a hand, and the stories begin to unfold. Gemini Moon may talk through the night, or at least, your dreamtime messages will be loud and clear.

Mar. 22 - This is a very busy Monday. Imagination soars, suggestions fly in, agreements arrive, and "the band played on" into the night. If Mars & Mercury Rx have you stranded on a bridge somewhere, at least you'll find friends in the crowd for a sing-a-long.

Mar. 23 - The gears will probably jam today, especially if you push it! Expect delays, machinery breakdowns, or communication gaps; take another breath, be patient, and work it through, one piece at a time, or leave it for this evening after the Moon enters Cancer (8:33pm PST), and loose ends come together.

Mar. 24 - First Quarter Moon - Dreamtime is active again; you may feel like you never slept. Recalling what went on there may help you make the right choices during the day. Many people come together, fresh ideas are fashioned into new plans; keep weaving, integrating, adjusting and suddenly it all "fits" at the same instant.

Mar. 25 - Keep yesterday's momentum, and put it all in writing, or at least make some notes; run errands, jams get fixed, phone the rest of the list, tidy-up and finish any other "little things" around the house or office, and especially with people, like apologies, thanks, invitations or just to say "hi."

Mar. 26 - Morning sluggishness may produce obstacles and frustration, but Leo Moon lifts spirits and builds energy. Lucky breaks, loopholes, and friends with the right keys are in the offing, and you will be dancing by dusk. Just remember that today's energy is very high, so overexertion is quite possbile. Relax!

Mar. 27 - Our limits may be tested in some outlandish ways. This is not the time to try to prove your point. Security may be breached, run-ins are possible, our buttons get pushed. Not much headway is made today, unless you are digging for buried treasure; competition will be stiff.

Mar. 28 -

Palm Sunday

Palm branches were strewn on the path before Christ
to symbolize glory, triumph and resurrection: immortality.

Did you know this, about the Palm Tree?:
Babylon: Palm was the original Tree of Life
Hebrew: Original Goddess was Tamar, which means "Palm Tree"
Phoenicia: Baal-Peor, or Phoenix, means "Land of the Palm."
Early Christian: Ta-Mari (Virgin Mary) means "Holy Palm"
Egyptian: Palm Tree is the symbol for a man's penis
Chinese: Palm symbolizes retirement, dignity, fecundity
Virgo Moon trine Saturn brings our attention to family, church and state. Any incongruencies in our life-style choices and companions will noticeably stand out. Honour the Ancestors, Mother Earth and Her Gifts, as well as your own natural "gifts." No frivolous commitments today. Good food, real art, Nature, teamwork and clean-up all play their parts. Be appreciative.
Mar. 29 - Early morning wake-up call. Jupiter & Pluto are having big talks, and big money will roll. The stakes are high, and Lady Luck *smiles*. Estate sales, auctions, swap meets and pawn brokers all offer rich possibilities. Or you will at least clean out the car and find some change under the seat!
Mar. 30 - Your last thought before you went to bed last night is with you all day. If you didn't double-check the reservations, they are probably gone. But that may be a good thing. Contemplate your options. Candlelight supper ushers in a Libra Moon, and the misunderstandings are smoothed out.
Mar. 31 - Full Blue Moon
The second of two Blue Moons inside of 60 days must be noted as completions and closures on some very old matters, especially excesses, as we redesign our daily ways (our Moons) to harmonize with our natural ~flow~. By the end of this day you may feel like you have been danced all over the floor by a number of different zany partners, but you will be breathing more deeply and feeling refreshed. (note: if you needed a de-frag, today's the day)

More about Blue Moons, Neptune and Retrogrades in the new Climate Report.
As we celebrate Spring Equinox, Passover and Easter,
we offer you an image of renewal on which to focus.

This one is worth a bookmark.
Apr. 1 - Passover is the key word today, regardless of your religion. This is one of those times when Time ceases to exist, you find the slip-stream, cruise through your chores and float out the door. No one even notices. Last day of Mercury Rx asks us to breathe patiently for just a wee bit longer.
Apr. 2 - You may forget it is a holiday and head off to work. Chance meetings can let the cat out of the bag. Scorpio Moon, and Mercury gone direct, both do their sleuthing. Weekend of celebrations cautions: Don't drink and drive.
Apr. 3 - Pace is fast, stay alert, upsets are possible. Strong wills and stubborn streaks are likely, but differences of opinion will soften as the evening mellows. Set your clock AHEAD One Hour before you go to bed!
Apr. 4 -

Daylight Savings Time Begins ~ 2:00 a.m. PST

Peace Prayers flow around the world as we consider our mortality and renew our Love of Life on this day of rebirth. Scorpio Moon gives way to Sagittarius, to lighten the air, and Mercury & Venus conspire to invite "everyone." Dreams are shared and fantasies followed.

Apr. 5 - Illusion challenges Reality ~ Reality Wins, but Which Reality? Listen on the wind as your intuition strengthens and new dimensions burst forth, demanding exploration. You might find a secret stash today, clinch the deal, or get the brain~wave that launches the new project. Stay mobile.

Apr. 6 - Security may be threatened, but count in the JOY factor, not just the dollars. System breakdowns, drug overdoses, allergic reactions and illogical connections are all part of this jigsaw puzzle. Untangle one strand at a time.

Apr. 7 - Get papers in order, see the accountant, phone your agent or publisher, settle your affairs. Even if you only manage to clean out your car's glovebox, be sure to complete at least one task today, and make one concrete decision about your physical surroundings or your own body.

Apr. 8 - Last Quarter Moon in Capricorn ~ Danger of excesses spoiling the fun. Take pleasure in small delights and basic creature comforts. This is not the day to argue with the boss, that nice police officer, or your mother-in-law. Mind your manners and your own business, and you will be rewarded tomorrow.

Apr. 9 - Communications flow without a hitch, all the news is good, and you might even swing a day off. Aquarian Moon arrives in time for a stimulating evening. Phone lines, ~e~waves and ticket line-ups will be humming with Spring Fever.

Apr. 10 - Follow your nose, not your schedule. Leaving your glasses at home fuzzes your vision, but intuitive senses are heightened. Bad news turns to good, and help arrives to lighten the load. Parties go on all night!

Apr. 11 - Another fabulous Sunday, spring weather, or cabin fever, will allow more outdoor events, group activities, new adventures and startling disclosures. Try something different, walk a new trail and chat with the folks. Fresh Air will disintegrate defenses.

Apr. 12 - Pisces Moon shifts gears, and we wobble. Venus into Gemini brings untried ideas to mind, wiping the old slate clean. As we readjust our positions, we suddenly see an angle we never saw before. We might even blink and rub our eyes, thinking we must have imagined it.

Apr. 13 - Don't expect your rational mind to do you much good today. You will get better results asking advice of the nearest tree, seriously! Go with the flow of Moon & Mercury in Pisces, take time to listen, show compassion, write a poem or play with children. A walk in Nature would be Divine.

Apr. 14 - Aries Moon gets a jump-start on tomorrow's New Moon. You may find just the loophole you've been looking for, get the last ticket for the flight, or succeed in making "impossible" connections. Move fast, and you will slip through.

Apr. 15 - NEW Moon in Aries You are not likely to mind last night's loss of sleep, as you are bursting with promise and anticipation. Plans go well, meetings achieve results, and romance too! Artistic endeavours get a fresh start.

Apr. 16 - Bottlenecks can cause frustration, and if furniture is to be moved, insure that important documents are first accounted for, or they may disappear forever. Taurus Moon slows progress, and Mercury at 29.Pisces blurs the focus.

Apr. 17 - Early morning wake-up call with much to do, but body is not committed. We are more likely to stand our ground than usual. When the crisis is over, we can enjoy the rest of the weekend.

Apr. 18 - All the loose ends come together, gifts are exchanged and rifts are smoothed. Family and social gatherings go extraordinarily well, with surprise pairings emerging. Meeting old friends and new ones, asking questions, being more observant and finally "getting it," all take their turns.

Apr. 19 - Gemini Moon continues to bring active discussions, brainstorming and spontaneous laughs. Stay light on your feet, take a walk at lunchtime, and don't lock your keys in the car. If mind wanders, lead foot may follow.

Apr. 20 - Sun enters Taurus

~ transmissions are always coming in ... stay-tuned ~

Why stay in the dark?



Personal~Zone


Your Very Own Personalized


Daily Astrological Forecast Report
and now ~ How Does Astrology Work?
Share your Smile,
your Warmth, your Time.
Tribute to Lady Diana


(now on its own page)
| | | |
| --- | --- | --- |
| Climate Report | Comments Welcome | HOMEto Portal |
Copyright ©, 1998, 1999 ~ Sandy Hughes

---