---

Astro-Log


~ Aquarius ~
Moons of Aquarius (February):
FULL MOON:
3rd Quarter:
NEW Moon:
1st Quarter:
FULL MOON:
Jan. 20; 8:40pm - Leo, 0° 26'
Jan. 27; 11:57pm - Scorpio, 7° 42'
Feb. 5; 5:03am - Aquarius, 16° 02'
Feb. 12; 11:21pm - Taurus, 23° 33'
Feb. 19; 8:27am - Virgo, 0° 20'

---
Please Note:
All aspects are approximated for the West Coast of North America (PST+8=GMT). Adjustments may be required for other parts of the world.
Our resident sky-watcher reveals her notes in Astro-Log: a sketch of this month's heavenly activities. As the planets dance through the celestial ballroom, the "Music of the Spheres" impacts on our entire environment, from macrocosm to microcosm. In our continual attempts to "go with the flow," checking the current cosmic pulse through Astro-Log, can help us harmonize with the moment, the Eternal Now. These effects are GLOBAL, regardless of your "sign." Obviously, the way they interact with your own personal horoscope will determine "how" you personally experience them.

As the ~tyme~warps~ continue, we are doing our best to transmit these Logs promptly, but true to its name, the Aquarian Zone runs on its own frequency and does not always coincide with ~earth~tyme~. This monthly report is usually posted by the natural solar rhythm
which occurs each time the Sun changes signs. It is meant to be a Guide, not Gospel.
Our Star-Gazer sincerely hopes that her notes are a help to you.
Sandy's ICQ #: 23344288

~ personal internet pager ~
NOW Penelope's Parlor is back!
OPEN for your enjoyment 24 hours a day!
~ high atop the Andes at Machu Picchu ~ it is breathtaking.
Chat with your friends, ~any~tyme~
L-I-V-E CHATS with SANDY are also available.
When is good for you? It's as easy as e~mail.
---
Last month's Astro-Log is here!
~ Aquarius Untamed! ~
Jan. 20 - Closures and beginnings overlap, as the Sun enters Aquarius, the Moon moves into opposition and we bask in the rays of a FULL Moon Eclipse in Leo. Sunshine on the snow, rainbows on the shore, and hope comes to the saddened heart. As we truly begin to see the past, we suddenly see the future. A revelation is about to be born.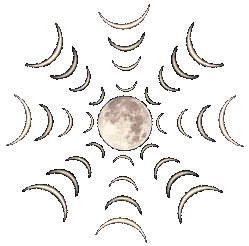 Full Moon Eclipse emanating from the Heart Centre
Jan. 21 - Healing crisis takes a turn for the better. When you "get down to brass tacks" (bottom line), you discover gold. Gather all your strengths from the past, and stir them into a new concoction. Stick to your truth, and don't be swayed. Joy is the test. "Luck be a Lady tonight."
Jan. 22 - An entirely new angle shines light from below to illuminate the deeper issues and values of any situation. Ride the tide, dance the wave and go out for sushi. Celebrations are in order. Once we adjust to these new vibrations, we will discover a giddiness emanating from within. La Luna takes on a sultry glow as the pleasures of Leo evolve into our work, and she slips into Virgo.
Jan. 23 - Computer glitches, traffic snarls or cranky people may threaten an otherwise beautiful day. Stick to the work at hand, and don't be pulled into other folks' dramas. Too many distractions or excess data input can scramble brains; keep it simple.
Jan. 24 - Ground is unstable and may even shake. Intuition will be keen, but balance may be off; check your bearings before reacting. Venus enters Capricorn and Mercury squares Saturn, so you may need to produce ID, legal proof or back-up copies. "Don't sweat the small stuff," as the Moon will relax her criteria, and weave-in the loose ends, when she moves on to Libra later tonight.
Jan. 25 - GREAT Idea Day! Whatever you thought you had lost is recovered, and old friends give character references. Miracles do happen, and inspiration hangs in the air, waiting to be plucked like plums off a tree. Have you been writing down those dreams? Now you see their hidden meaning, as they begin to manifest.
Jan. 26 - Resist the urge to get ahead of yourself; savour every morsel - this one won't be back. Unexpected "curved balls" are easier to field if you stay flexible. You may still be working out the kinks, but it is on the fly, so get used to this speed; it is now the norm. Astral travel, psychic flashes and innovative healings will prevail.
Jan. 27 - Last Quarter Scorpio Moon peels back the wallpaper and memories flood in. Nervous energy runs high, so channelling it into dance or body movements, tai chi or work-outs, can unkink the tangles and release the last of the tensions. Mercury & Uranus are badgering us to carve new trails and dare to challenge ourselves to surpass even our own (previous) levels of excellence.
Jan. 28 - Know your own limitations, and keep your boundaries defined. You may have to defend yourself or your rights. Stay objective and open for the best results. Mars shines the flashlight ahead of you, allowing you to see farther down the path than usual. Remember what you see.
Jan. 29 - A bicycle ride or a good old-fashioned jog can blow out the "carbon" in your brain, - and your blood. Sagittarian Moon inspires fun hypotheses, and old stories get a new twist. Listen to the whispers on the wind (or the shouting on your back porch) for clues as to the next turn of Life's wheel.
Jan. 30 - Sudden stops, random searches and radar traps may pose delays, as the Sun squares Saturn and the Moon conjoins Pluto. Father/Son squabbles will upset Mom, so take the tensions to the wrestling mat or the chess board instead of making it so personal. Remain conscious of staying centered and being appropriately positioned. Take nothing for granted.
Jan. 31 - Fog, snow and wind may inhibit vision or maneuverability on the road. Mechanical breakdowns are possible; keep the cell phone charged, and with you. Asking for help or directions may save you hours or dollars. An alternate route will open if you can stay calm - sing a song. Bonuses, free lunches and free rides will compensate for delays.
Feb. 1 - St. Brigid's Day Blessings at Imbolc (Candlemas) - The first quickening of Mother Nature sparks us all into inspired action. Increased light brings hope, and even returns to the bargaining table will be satisfactory to both sides. Capricorn Moon stabilizes plans, as the Sun's conference with Pluto brings courage and confidence.
Feb. 2 - Groundhog Day ~ teehee ~ the faeries made me tell you. It may be a silly tradition, but pay attention to the symbols you receive today, as true bonds and friendships are affirmed and rewards are timely. Follow Nature's lead; let the weather or the animals show the way. Love is in the air - old and new.
Feb. 3 - There is much work to be done, but your energy is building and should carry you through to the much anticipated shift into Aries on Feb. 11. Overload may threaten; don't hesitate to delegate! Share the responsibilities - remember, this is *2000* - i.e. COOPERATION. Teamwork pays off, work-outs yield steely bodies and dreamy wisps of fantasy begin to take form and become real. Late-night soirées charge the air with innovative possibilities as the Moon flies into Aquarius, and Mercury chats-up Jupiter from 29°Aquarius to Aries!
Feb. 4 - How to? Confusion reigns as long as you try to include "everybody's" plans. Stick to your own road, deal with the obstacles, and meet at the local hang-out after all is said and done. This final day of the (Chinese) year and the balsamic Moon demand closures and completion, as we prepare to burst forth from our shadows into the Light.
Feb. 5 -
New Moon Solar Eclipse
in Aquarius, as we welcome in...
Chinese
New Year


of the Dragon

Mercury in Pisces shifts our perceptions of reality, as the eclipse conjoins Uranus, and makes huge waves! Old poisonous influences are revealed and eradicated as secrets leak out. Today is the First Day of the rest of your Life! Start fresh on the untrodden path.
Feb. 6 - Pisces Moon plays with Mercury all day and tickles our imaginations, fantasies and dreams. Enjoy this day of romance and roses, or simply a stroll through the park. Fresh air and adventure beckons the Inner Child. What if it were all just a game? What would you do next?!
Feb. 7 - Tension is in the air, but solutions are available and satisfaction is likely. Glitches will iron-out by themselves if you watch "the flow" of energies and hints of synchronicities. Lose one deal; gain two more. Letting go allows room for healing and growth to occur.
Feb. 8 - Single-minded focus; eye on the goal, and drive those pineapples to Hawaii! Sentiments and memories may cloud action, so keep it simple, and aim straight ahead. Know who you are, and why you are going wherever you are going. Beliefs may be challenged and motives unveiled. Stay clear; cars and drugs do not mix! As the Moon passes Mars in Pisces, emotions are stirred from the bottom of the pool (long ago), and then as it goes into Aries those emotions may lash out. Stay out of harm's way.
Feb. 9 - Frustration and impatience may still be pushing you, but innovative ideas meet with favourable response. The untried method will win the prize, or the simpleton solves the riddle. Stay loose, dance and socialize. Steer clear of people with an axe to grind; take the scenic route and discover something magical.
Feb. 10 - Time to break-away from the box and spring free from the expectations of others. Find your own Truth and stand in it, basking in its light - then the shadows can't find you. Follow your hunches, or the words of a child. The answer is so simple you will not believe it at first. The last day of Mars in Pisces renders inspiration to the saturation point. Give thanks, as the Abundance is about to arrive!
Feb. 11 - Flat tires or lost keys may slow you down, but a quick phone call will bring help, and good conversation results. Information is shared and levity moves in. Laugh your way through the tensions and avoid extremes. Mars enters 0°Aries, while Jupiter rides the tail at 29°. Knee-jerk reactions are liable to break your jaw. Caution brings relief.
Feb. 12 - First Quarter Moon in Taurus - Schedule changes, but you are glad. New agreements are reached and the deal is signed. Assistance arrives in the nick of time. Evening unfolds with joyous celebrations and gifts of love! Jump the gun on Valentine's Day, and give that diamond tonight!
Feb. 13 - Gemini Moon counsels that we keep the mood light. Lots of chores and errands get done, but traffic and crowds can drain energy. Avoid debates or pushy people. Argue your case another day, when Mercury is not square Pluto. Jupiter's last day in Aries may bring panic attacks over unfinished business.
Feb. 14 - Happy Valentine's Day - Last night's squabbles will melt with gifts of love: flowers and dining and special touchables like lingerie, precious carvings and heirloom jewelry. If money is a problem you may successfully show your love by offering a massage, or a scented bath complete with warm towels, and a bed-tray with tasty treats.
Love Is the Answer to the Final Question
sorrrrry for the time~blips, but...
~ transmissions are always coming in ... stay-tuned ~

Why stay in the dark?



Personal~Zone


Your Very Own Personalized


Daily Astrological Forecast Report
and now ~ How Does Astrology Work?
Share your Smile,
your Warmth, your Time.
Tribute to Lady Diana


(now on its own page)
| | | |
| --- | --- | --- |
| Climate Report | Comments Welcome | HOMEto Portal |
Copyright ©, 1998, 1999 ~ Sandy Hughes

---